Our Veterinarians
Veterinary Doctor Nicole McCready's experienced team of skilled veterinarians welcomes you to our practice. Proudly serving the Phoenix and Glendale areas. At Camelwest Animal Hospital, it is our daily privilege to provide quality vet care to your dog, cat or other small animal, bird or reptile with compassion and competence. We hope to ensure a positive impact on our patients, pet owners and the local community.
Dr. Nicole McCready
MDVM
Nicole McCready graduated from Colorado State University College of Veterinary Medicine in 2004 and started working at Camelwest shortly thereafter. In 2006 she took over the position of Managing Veterinarian. She is a member of the Association of Avian Veterinarians and the Association of Exotic Mammal Veterinarians. She cares for dogs, cats, rabbits, rodents, ferrets, and avian patients. Outside of work she enjoys spending time with her husband and two children, gardening, knitting, and watching anime and science fiction. She is also an endurance athlete and competes in triathlon and open water swim competitions, and is an avid road cyclist. In addition to her human family she also shares her home with three cats and a brown-headed parrot.
Dr. Jennifer Flick
DVM
Dr. Flick is a native Arizonan who completed her undergraduate degree at the University of Arizona. She then traveled to Colorado where she received her Doctor of Veterinary Medicine degree from Colorado State University in 2005. After working for a few other small animal hospitals, she finally found her "home" hospital and joined Camelwest in 2009. Her main focus is taking care of dogs and cats, with a special interest in feline medicine. Dr. Flick is a member of both the American and Arizona Veterinary Medical Associations and the American Association of Feline Practitioners. When not at work, Dr. Flick can be found spending time with her two daughters and her husband. She also enjoys reading good books and a good cup of coffee. Dr. Flick's four legged family members include three cats and three dogs.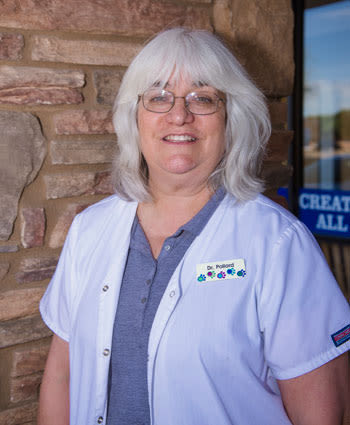 Dr. Sharon Pollard
DVM
Dr. Pollard was born and raised in Phoenix. She received her bachelor's degree at the University of Arizona and completed her doctorate in veterinary medicine at Colorado State University in 1985. She enjoys working with dogs, cats and all kinds of pets. When not at work, Dr. Pollard enjoys reading, playing viola in her church orchestra and spending time with her family. She and her husband have two grown daughters, one who is a teacher here in Phoenix, and one who loves to travel and is currently living in Australia. Her animal family includes two dogs, one cat, and a parakeet.